Cameras
Fantasea Releases Underwater Housing for New Nikon Models
Feb. 29, 2008 – Underwater accessory manufacturer Fantasea today announced three new underwater housings for Nikon digital cameras. The FL-18 works with the Nikon Coolpix L15, L16, and L18 point-and-shoots; the FS-210 works with the Coolpix S210, and th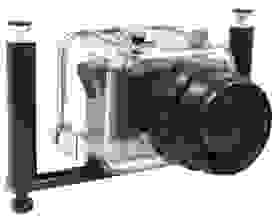 Feb. 29, 2008 – Underwater accessory manufacturer Fantasea today announced three new underwater housings for Nikon digital cameras. The FL-18 works with the Nikon Coolpix L15, L16, and L18 point-and-shoots; the FS-210 works with the Coolpix S210, and the FD-40x for the newly-released D60 DSLR. The FL-18 and FS-210 will retail for $245, and the FD-40x for the D60 will retail for $1,099; release dates have not yet been announced.
All three underwater housings allow cameras to travel to depths of 200 feet (60 meters). Double O-ring seals allow users to access controls on the camera without water leaking inside.
The FD-40x is a little more fancy, since it needs to accommodate a more complicated camera – stainless steel latching buckles prevent water from seeping into the plastic housing. In addition, the FSB-800 flash housing can be purchased for the Nikon SB 800 flash – a special bundle price of $1,499 is being offered for both the FD-40x and FSB-800.
All three can be paired with optional accessories, including lens ports, flex arms and digital flashes. All three come with a one-year flood insurance policy, offering reimbursement should water leak into and damage the camera. For more information, visit Fantasea's website.