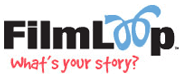 *November 9, 2006* – FilmLoop, Inc. announced last week a way to share "photo stories" with its free online slideshow platform, FilmLoop.com version 2.0. The new version enables Windows and Mac users to post their slideshow "Loops" with photos, audio, text, and graphics for public viewing. 
Loop, which received 3.5 stars on the FilmLoop rating system.
FilmLoop Beta v2.0, launched last month, added enhanced graphics, such as speech bubbles, clip art, border, and title frames in the update.  FilmLoop v2.0 also has new template options and improved sharing capabilities for email and blog posting.  Users can also post their photo stories on MySpace with the new version.
Since its launch in 2005, nearly 2 million users have downloaded FilmLoop, according to the company website.