Cameras
Five from Fujifilm: Waterproof Z33WP, Ultra-zoom S1500, Youth-Oriented Z30, Budget J20fd and J250
February 17, 2009 - Fujifilm today announced five cameras, ranging in price from a $249.95 ultra-zoom to a $129.95 budget model.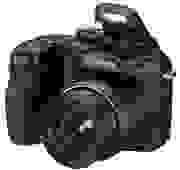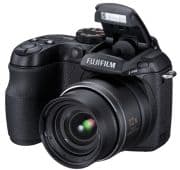 The FinePix S1500 offers a 12x zoom (33-396mm equivalent), 10-megapixel resolution and automatic scene recognition. The S1500 has both a 2.7-inch LCD and an electronic viewfinder, dual image stabilization, full manual controls and 14 scene modes. ISO settings top out at 1600, shutter speeds range from 8 seconds to 1/2000 second. Powered by AA batteries, the camera measures  4.0 x 2.9 x 2.7 inches (102.5 x  73 x  67.8 mm) and weighs 11.4 oz. (323g). It will be available in March for $249.95.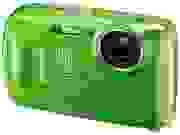 Fujifilm takes a dip in the waterproof market with the Z33WP, a lightweight 10-megapixel camera that's safe down to 10-foot (3m) depths. The3x zoom (35-105 equivalent) has a maximum aperture setting of f/3.7 at its widest setting and f/4.2 at full zoom, without mechanical image stabilization. The Z33WP offers a 2.7-inch LCD in a compact 3.6 x 2.3 x 0.8 inch (92mm x 59.6 x 20.6 mm) package. The face detection system works with up to 10 individuals, and powers self-timer modes that wait to take a picture until two people (Couple Timer Mode) or four people (Group Timer Mode) are recognized. The striking, rounded design will be available in bright green, pink and black, priced at $199.95, when it arrives in March.
Adding to Fujifilm's youth-oriented Z series, the 10-megapixel Z30 will come in bright pink and orange as well as black, with a distinctive horizontal-sliding lens cover. Unlike most video modes, the Z30 allows shooters to start and stop recording to the same 60-second clip which, combined with in-camera editing, allows for creation of YouTube-ready compilation clips. The camera has a 3x zoom (35-105mm equivalent) and a 2.7-inch screen, but lacks mechanical image stabilization. It does include a Fujifilm feature we've appreciated on previous cameras, the Natural Light & with Flash Mode, which takes two shots in rapid succession, one with flash, one without. The Z30 ships in March for $179.95.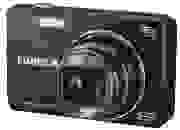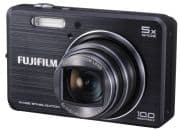 The FinePix J250 (shown) and J20fd share a slim, rounded-rectangle shape and style, but features differ substantially. The higher-end J250 delivers a 3-inch LCD, 5x zoom (28-140mm equivalent) and both mechanical and electronic image stabilization, while the J20 includes a 3x lens (35.5-106.6mm equivalent), 2.7-inch screen and electronic-only stabilization. Both cameras share a 10-megapixel resolution, auto scene recognition and face detection systems. The J20 will be available in February priced at $129.95, the J250 in March for $199.95.