*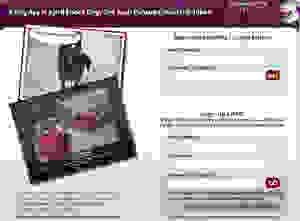 April 12, 2005 *— April Fools Day is every day at foolsjelly.com, where photographers can upload their pictures and create quirky postcards for free. The web site was launched by JellyBarn Inc., an online photography application company focused on "social networking." FoolsJelly is the company's first beta project and allows users to add humorous elements to photographs and store unlimited numbers of them on the site.
Visitors to the site must login to access the online system, which requires computers to have Macromedia Flash Player and users to be over the age of 13. Visitors can then upload photographs into a bubble photo or inspirational poster template and create a humorous postcard. The postcards can be sent directly from the web site, where the cards can be stored or shared on a public gallery for rating by other visitors. Perhaps the best part about this site is the unlimited storage space and the amount of time photos are stored there — forever.
"I sleep peacefully knowing that our work keeps people entertained," said Matthew Bergsma, vice president of JellyBarn Inc. Apparently, entertainment value is the main goal of the site. The project is funded by the company's other products, which are sold to larger web portals.