Cameras
FotoNation: FaceTracker and Red-Eye Used in Half of Digital Cameras
– Imaging software developer FotoNation, Inc. yesterday announced that its Red-Eye and FaceTracker technology are embedded in more than half of the digital cameras sold this year. Known for its face detection and built-in red-eye correction, FotoNation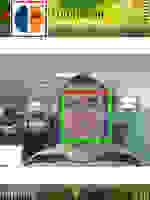 Sept. 12, 2007 – Imaging solutions developer FotoNation, Inc. yesterday announced its Red-Eye and FaceTracker technology are embedded in more than half of the digital cameras on the market. 
With a client list that spans almost every major camera manufacturer (Canon, Hewlett-Packard, Kodak, Nikon, Olympus, Pentax, Samsung, Sanyo, and Sony), FotoNation's FaceTracker is implemented in 21 out of the 48 point-and-shoot and compact digital products introduced in the first half of the year, according to the release.
FaceTracker detects up to 10 human faces in a scene and then automatically sets exposure and focus. FotoNation's red-eye technology corrects for post-capture artifacts as a result of flash on retinas.
Both technologies are built into the cameras so that users do not need to use additional software. Earlier this year, FotoNation announced face detection and red-eye fix for camera phones.