*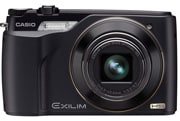 January 6, 2010 *– Casio introduced four new cameras at CES today, including a new member of its ultrafast burst rate line, the EX-FH100, and a trio of compact cameras running the new EXLIM Engine 5.0 processor. All four models are scheduled for spring shipment.
The 10.1-megapixel FH100,  priced at $349, delivers a maximum burst rate of 40 frames per second at 9-megapixel resolution. As with previous Casio cameras, the FH100 also allows ultra-slow-motion video recording, at up to 1000 frames per second (albeit at a minuscule 224 x 64 pixel size). At a more reasonable 640x480 size, shooting speed tops out at 120fps. An interesting feature is a mode that allows the shooter to switch from normal video recording to high-speed mode by pressing a single button. High-def video in 720p format is also available, with stereo sound, and there is an HDMI port for connecting to an HDTV.
The High-speed Lighting feature uses the camera's high-speed burst capability to take three sequential shots at different exposure settings, then combine them in-camera into a single high dynamic range image. Similarly, High-Speed Night Scene and Portrait modes minimize blur by combining a sequence of shots into a single photo,
The FH100 has a compact 4.1 x 2.4 x 1.1 inch (105 x 63 x 30mm) body, weighing in at about 8 oz. (227g) with battery and memory card. The camera features a 3-inch LCD with 230,000-dot resolution and a 10x zoom lens (24mm equivalent at its widest-angle setting). The camera comes with a Lithium ion rechargeable battery. It will be available in black and silver.
The other three cameras announced today are all 14.1-megapixel models, all powered by a new processor which, according to Casio, increases image processing speed by 30%. The cameras share a wide range of features, including an ISO range from 64-3200, rechargeable Lithium ion battery power, scene-recognition-based auto mode and support for Casio's Dynamic Photo feature, which composites burst-rate still image subjects with still or moving backgrounds. All three cameras can shoot video at 720p resolution, at 30 fps for the EX-H15 and EZ-2000, 24fps for the EX-550.
The EX-H15 ($299) provides a 10x optical zoom (24-240mm equivalent) with a maximum f/3.2 aperture. The camera measures 4 x 2.4 x 1.1 inches (102 x 61 x 28mm) and weighs 7.2 oz. (204g) with battery and memory card. The 3-inch LCD offers an enhanced 460,000-dot resolution. According to Casio, the H15 will take roughly 1000 shots on a single battery charge.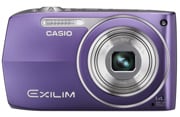 The EX-2000 ($229) includes the same 3-inch 460,000-dot LCD as the H15, though the zoom lens is a more modest 5x (26-130mm equivalent). The body is noticeably slimmer (3.9 x 2.3 x 0.7 inches / 99 x 58 x 18mm) and lighter (5.3 oz / 150g  loaded), though so is the battery life, at approximately 580 shots. It will comes in a variety of colors, including black, silver, blue, red and pink.
The EX-Z550 ($169) steps down zoom power to 4x (26-204mm equivalent) and LCD to a 2.7-inch 230,000-dot screen. It will be available in black, silver, red and violet.