Cameras
Fuji Launches F40fd with Higher Res, Lower Price
Fuji Launches F40fd with Higher Res, Lower Price, xD/SD Compatible Slot, Wide View Filter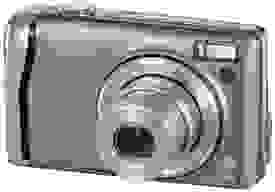 January 4, 2007 – Just a few short months after announcing the F31*fd* at Photokina, Fujifilm today added the FinePix F40*fd*, an advanced point-and-shoot with face detection. The F40*fd* will eventually replace the F20 in the FinePix line, improving upon its predecessor with a higher 8.3 megapixel count, a new Wide View Filter LCD screen, and an xD/SD Compatible Slot, all for a lower price of $299.95 when it debuts in March.

Fuji 's 6th generation Super CCD-HR sensor, RealPhoto Technology, IR-Simple technology, and hardware-based face detection system.  While the face detection system provides auto focus and exposure on up to ten faces, the F40*fd* also provides facial recognition in playback mode for easy review of portraits.

, Fuji improved its face detection system, adding a DPOF (Digital Print Order format) feature that automatically matches the number of prints to the number of faces in a group photo, allowing each person to take home a print. The new face detection DPOF option "is a cool feature that Fujifilm has to offer in their face detection that no one else is really thinking of yet," said Fuji Senior Product Training Manager Jim Calverley in an interview with DigitalCameraInfo.com.
To further enhance the face detection system, the F40*fd* includes slideshow options with auto rotate and auto crop of portraits that may be useful for individual portrait printing. 
Along with the increased megapixel count and improved face detection options, the F40*fd* adds an enhanced 2.5-inch, 230,000 pixel LCD with the new Wide View Filter.  The new Wide View screen is designed for off-axis monitor viewing by multiple users. The FinePix F40*fd* also comes with the new xD/SD Compatible Slot; it is one slot that accepts both types of memory cards.
While the camera surpasses preceding FinePix models with the added fd-geared options, the F40*fd* will sit below the recently launched F31*fd in Fuji's F-series, carrying a*lower maximum sensitivity of ISO 2000, compared to the F31*fd's top*ISO 3200 setting. 
Fuji feature set such as their picture stabilization mode, i-Flash technology, dual shot mode, and noise reduction. The FinePix camera also has 14 scene modes and is compatible with Li-ion batteries at 300 shots per charge. 

Fuji 's 2007 products," according to Jim Calverley.  Fuji, in an attempt to compete with other face detection systems such as the Pentax S7's Face Tracker or Canon's face detection on its SD900, 800 IS, and G7 PowerShot models, will be rolling out more products marked "fd" this year.