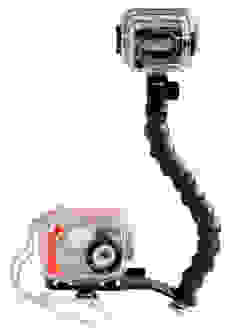 October 28, 2005 - The Underwater Strobe Kit from Fuji, containing a slave flash unit that can function submerged at depths just shy of 200 feet, is now available in the UK. The unit itself is wirelessly trigged by the camera's built-in flash and offers three output settings, and can be purchased with its housing separately from the kit.
The kit itself contains the slave flash, its underwater housing, and an arm that attaches the slave flash to the camera's underwater housing. This arm is fully flexible and can be twisted into different positions, and it and its bracket can also be purchased as separate components.
The arm and bracket alone cost $250, the unit and housing alone, $196, and the entire kit, $285. The products are available throughout the UK where Fujifilm items are sold, and in some diving shops.