Cameras
Fuji Updates S5 Pro Firmware v1.06
Find a link to download the latest firmware to the Fujifilm S5 Pro Digital SLR, version 1.06.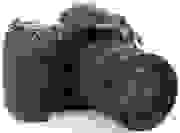 April 26, 2007 – Fujifilm recently released firmware version 1.06 for its S5 Pro DSLR. The in-camera software update adds barcode scanning abilities and upgrades the Function Lock function.
With the update, Fuji S5 Pro users can now use the Barcode Multi-read function, accessed through the Image Comment menu. The camera will retain EXIF data with the added barcodes, according to the company. 
The update includes increased options in the Function Lock menu, where users can now select noise reduction, maintenance, date/time, and file tag options.
Fuji reminds S5 Pro users to format the memory card and fully charge the NP-150 battery before upgrading the camera's firmware, which takes approximately 1 minute, according to the website.
The Fuji S5 Pro firmware 1.06 update is available for download at www.fujifilm.com/products/digital/download/s5pro/fupd.html.