December 14, 2004 — Fujifilm and Microsoft signed a deal today that will give Microsoft XP users direct access to Fujifilm's online digital photo printing service. The service, called Get the Picture Online, lets users upload images and print them at a selected local retailer. Prints can be ready in an hour or less. The service connects photographers to more than 5,000 retail locations — including specialty photography stores such as Ritz Camera and drugstores such as Walgreens.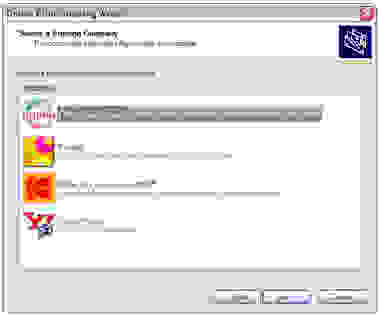 The signed deal with Microsoft will connect MSN Photos and Digital Image Suite users directly to the site. Microsoft users can access the service easily through an icon that appears on their taskbar when they're manipulating photographs in Microsoft programs. When clicked, the icon will let users choose between several online photo printing services, including Fuji's Get the Picture Online service. Because it is online, Microsoft users won't need to update software programs. According to marketing research group IDC, digital photographers have captured 108 billion images, creating a need for online digital photo printing services. According to Lyra Research, digital photo printing brought in an estimated $6.6 billion in 2002 and is projected to net $15.1 billion in 2008.
Fujifilm uses the Frontier Family of Digital Lab Systems, a network of photo labs that accounts for more than 50 percent of labs installed in the United States. Users will have access to those labs through the Get the Picture Online service and now through Microsoft Windows desktops.
While the system is largely designed for snapshot photographers, "the ease of use and the cost of printing with this system at retail will provide a lot of opportunity for any level photographer," according to Josh Weisberg, Group Product Manager of the Windows Digital Media Division at Microsoft.
Hoping the emerging system will provide a boost to the fragile retail printing market, Ron Glaz, Digital Imaging Program Director at IDC feels; "the ability to order prints directly from the Windows XP desktop for pickup at retail within a matter of hours represents a significant step forward in offering new market opportunities for retailers and greater flexibility and convenience for consumers."
Some analysts question the popularity of online printing services with the proliferation of home photo printers. There is an ongoing debate about which option is better. Home printers are convenient, but cost an average of 56 cents per print, considering the cost of ink, paper, and electricity. Online printing services offer prints at an average of 28 cents and usually offer higher quality prints, however, picking the photographs up is not as convenient as printing at home. Fujifilm tends to think quality prints will trump convenience.
"Consumers want high-quality prints from their digital pictures for albums, frames, scrapbooks or just for passing among friends and family," said Howard Locke, product manager for Digital Services at Fujifilm. "Since lifestyles and schedules vary, the flexibility of Get the Picture Online empowers consumers to get real prints of their digital pictures in a manner that is most convenient to them, either as a quick pickup during the next trip to the store or through the mail for those with the busiest of schedules."