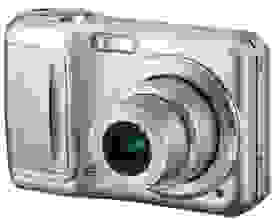 May 22, 2008 - Fujifilm today announced the FinePix A850, an 8-megapixel point-and-shoot with a 3x optical zoom lens, 14 Scene modes, and a 2.5-inch LCD. Meant to be a budget-friendly addition to the FinePix series, Fujifilm claims the A850 offers 'high-end technology to every-day users who want point-and-shoot simplicity at an affordable price point, but are not prepared to compromise on image quality.' Pricing for the point-and-shoot will be announced closer to the camera's July release date.
The A850 is marketed toward beginners, featuring mainly automatic functions, anti-blur image stabilization, and easy-to-use button and menu system to help new users navigate features easily. Scene modes include Natural Light, Portrait , Landscape, Sport, Night, Fireworks, Sunset, Snow, Beach, Museum, Party, Flower, and Text. The included Movie mode captures video with sound at 640 x 480 or 320 x 240 at 30 frames per second, but without zoom capability.
The A850 is definitely for the user on a budget, as it lacks many features found on higher end cameras, and the A850's smaller 2.5-inch LCD has only 156,000 pixels. In addition, it runs on AA batteries - which could be a benefit to those who don't want to worry about finding a place to recharge a lithium-ion battery while on vacation.
Fujifilm's A850 has 24MB of internal memory and accepts SD/SDHC memory cards for more storage.