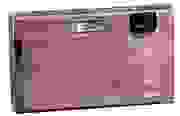 July 31, 2008 – Fujifilm today announced the FinePix Z200*fd*, a fashionably slender 10-megapixel camera with a sociable streak. New to this model is Couple Timer mode, a variation on face detection that automatically shoots when two faces come close together (users can specify the required distance, based on the couple's relationship). Similarly, Group Timer mode lets you specify the number of faces required to trip the shutter, allowing the photographer plenty of time to get into the shot.
The Z200*fd* incorporates a 5x optical zoom lens (33-165mm equivalent in 35mm photography) and a 2.7-inch LCD display in a decidedly pocket-friendly 3.6 x 2.2 x 0.8 inch (92 x 55.7 x 20.0 mm) package. The camera offers sensor-shift image stabilization and light sensitivity up to ISO 1600. The Z200*fd* also supports movie recording in Motion JPEG format, at 640x480-or 320 x240-pixel resolution and 30 frames per second.
The FinePix Z200*fd* will be available in four colors (black, silver, red and pink) in September, selling for $299.95.