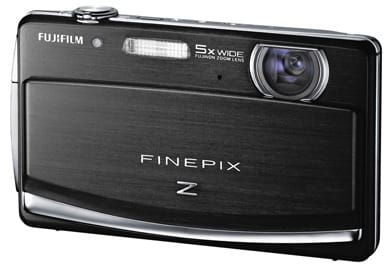 Fujifilm continued to roll out the latest in its 2011 FinePix lineup, with some high-end ultrazoom cameras and the sleek Z90. The S2950, S3200, S4000, and Z90 should appeal to more gadget-savvy consumers, with some exciting hardware additions and a slew of added features.
The three S-series models build on last year's S2800 and S2900 ultrazoom cameras, packing tons of zoom into a traditional "SLR-like" body. Each entry in the 2011 series comes with a different lens: the S2950 sports a modest 18x zoom, the S3200 reaches up to 24x, and the flagship ultrazoom offers a huge 30x optical zoom ratio. That lens is the primary difference between the three FinePix cameras, as all three have a 14-megapixel sensor, 3-inch LCD, and electronic viewfinder.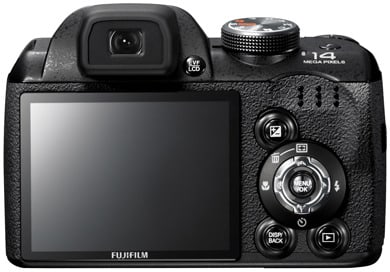 The Z90 is for consumers looking for something sleek, stylish, and pocket-sized. It too has a 14-megapixel sensor, but its 3-inch LCD is a resistive touch panel. The dual-directional GUI automatically rotates when you switch between landscape and portrait orientations. The 5x optical zoom is all internal, so there's no bulky lens element extending from the body of the camera.
The Z90 will be available later this month for an MSRP of $169.95. It will be joined by the S2950 for an MSRP of $229.95. In late February, stores are expected to see the S3200 for an MSRP of $249.95. We'll have to wait until March to see the top-of-the-line S4000 for an MSRP of $279.95.
More details are available on the spec sheets for the S2950, S3200, S4000, and Z90 or in the official press release below. You can read about all of Fujifilm's other announcements on our CES landing page.
** ** *
Valhalla, N.Y., January 5, 2011 – FUJIFILM North America Corporation today announced three new additions to its S-Series lineup: the SLR styled FinePix S2950, S3200 and S4000 long zoom cameras. The 14 MegaPixel cameras offer FUJINON 18x, 24x and 30x zoom lenses, respectively, as well as dual image stabilization. These cameras also have large 3" LCDs, with the S2950 and S3200 at 230K and the S4000 at 460K, an Electronic Viewfinder, plus a number of image and social features allowing enthusiasts and professionals alike the ability to capture crisp, clear shots up-close, wide and far away.
"For today's educated digital camera consumer, the demand for photographic tools allowing them to take sharp pictures and movies quickly on-the-go, in any light condition, and at any distance, is growing," said David Troy, director of marketing, Digital Cameras, Electronic Imaging Division, Fujifilm North America Corporation. "We're excited to offer these consumers the FinePix S2950, S3200 and S4000, giving them Fujifilm's superior image quality and long zoom capabilities in a compact and affordable way."
To read the full press release (as well as a press release for the Z90), please visit www.fujifilm.com/northamerica.
{:{PhotoGallery article.attachments}:}