Cameras
Fujifilm Confirms X100s and X20 at CES 2013
Fuji's X100s and X20 are the photographic highlights of CES 2013 thus far, even if their coming-out party was spoiled a couple days in advance.
The rumors are true: Fujifilm has just announced the X100s (specs) and X20 (specs) at its press conference here at the Consumer Electronics Show in Las Vegas. The X100s is a follow-up to the smash success X100, while the X20 follows up on the X10 with a new and improved 2/3-inch sensor.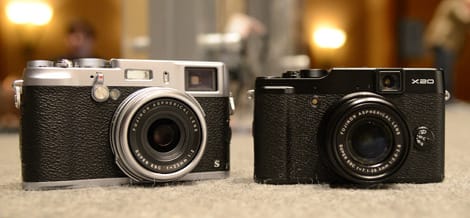 The X100s got a bit of an early reveal when Fujifilm's European site got a little too excited and outed the press release for its latest retro-inspired model. The X100s greatly resembles its predecessor, but features a higher-resolution hybrid viewfinder, a new 16.3-megapixel APS-C X-Trans II image sensor, and a new EXR Processor II. The sensor is of a newer specification than the original X-Trans sensor found in the X-Pro1 and X-E1 models.


The X20's smaller 2/3-inch sensor is also brand new, with a maximum resolution of 12.3 megapixels, and the same EXR Processor II as the X100s. Fujifilm claims that the improved processing in the X100s and X20 will provide market-leading autofocus speed (0.08s for X100s with phase detection AF, 0.06s for the X20).
Both cameras now utilize "X-Trans II" sensors, though obviously at a different size. The X-20 and X100s both go without an optical low pass filter, and benefit from the addition of phase detection autofocus pixels integrated right into the image sensor. The X100s also features a "digital split image" focus assist mode, in addition to focus peaking.
The X100s should also operate far faster than the X100, thanks to the new processor. Fujifilm claims the X100s can also shoot continuously at up to 6 frames per second, though it still utilizes a leaf shutter system. We'll have full in-depth coverage of both cameras later this week.
The two cameras should be available in March, with the X100s debuting at a retail price of $1299.95 and the X20 going for $599.95. For more on the Fujifilm announcements today, please head on over to their press room.