February 04, 2009 - Fujifilm has announced the camera with a new generation of CCD sensor, called the EXR, which lets users tailor the sensor pattern to fit the shooting conditions. The F200EXR can shoot in three different modes: the first is Fine Capture, which shoots at 12-megapixel resolution; Pixel Fusion Mode couples together two pixels at a time to increase ISO and lower noise levels, but at a reduced 6-megapixel resolution; finally Dual Capture photographs two exposures on alternating sets of 6-megapixels, and then combines them into one image with a greater dynamic range.
On more mundane details, the F200EXR has a new flash system to avoid washed-out pictures when in macro mode, face detection that recognizes up to ten people, and a 5x wide-angle lens (28-140mm 35mm equivalent). ISO sensitivity ranges from 100 to 12,800 (though at reduced resolution for the top two settings). The FX200 will be available this month for $399.95
On the more cost-conscious side of the product line-up,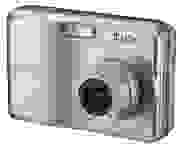 Fujifilm also announced the A150 for $129.95. Likewise available this month, the A150 shoots at 10-megapixel resolution, has a 3x zoom, and can detect up to six faces at once. It has a three-inch, 230,000 pixel LCD, and measures 3.6 x 2.4 x 0.85 inches (921.5 x 60.5 x 21.7mm).