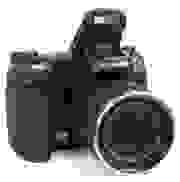 June 12, 2006 - Fujifilm has announced a price reduction for their FinePix S5200 digital camera, an SLR-inspired model which originally retailed for $349. Following yesterday's price drop, the 10x zoom compact camera will sell for $299.
The S5200 by Fujifilm was originally released on July 28th, 2006, and has a 5.1 MP, 5th Generation Super CCD HR sensor that can record both JPEG and RAW images. This SLR-styled compact camera is also capable of recording full resolution video at 30 frames per second with audio capture.
"As a photographic leader and technology innovator, Fujifilm makes it a point to understand the needs of today's consumer by developing products that suit a wide range of photographic needs and interests," said David Troy, Senior Product Manager, Consumer Products, Electronic Imaging Products Division, Fuji Photo Film USA, Inc. "The FinePix S5200 upholds the tradition of the popular S-series line and provides consumers with long zoom power, ease of use compatibility and most important, the best possible image quality."
Further information on the S5200 including pricing, purchasing locations and technical specifications can be found at http://www.fujifilmusa.com.