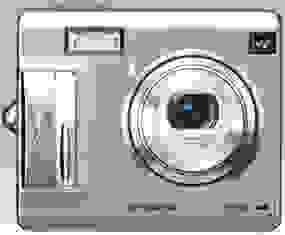 December 14, 2004 – The Fujifilm FinePix F450 attracted the attention of some popular magazines this month. Fortune named the digital camera one of the "Top 25 Best Products of the Year." Popular Mechanics selected the camera to grace its "Wish List 2005," which selects 30 of the year's best gadgets, toys, tools and wheels. The 5.2-megapixel camera comes in a compact frame and boasts a user-friendly 2-inch LCD screen.
At $399, the FinePix F450 weighs a mere 5.3 ounces and measures 2.9 x 2.5 x 0.8 inches. The camera was introduced in October and is already being recognized for its versatility and great image quality. The Fujifilm FinePix F450 can capture movies with sound, making it a popular choice among consumers seeking a hybrid imager.
According to Fortune, the digital camera is a "tiny, square machine" that has an "amazing feature set" and "takes great pictures." Popular Mechanics credited the F450 with "bridging the gap between digital cameras that are either high-resolution full-size bricks or low-resolution miniature toys."