*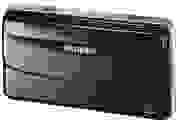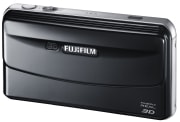 July 22, 2009 - *Fujifilm has now announced the first products using the company's 3D imaging technology introduced last September (see coverage here), which doesn't require the viewer to wear special glasses. The FinePix Real 3D W1 camera uses two lenses for shooting and a 3D/2D LCD monitor to play back three-dimensional stills and videos. Also introduced was a portable 3D viewer, the FinePix Real 3D V1, with an 8-inch screen and an adjustable stand. A system for having 3D prints output at service bureaus from images taken with the camera is also being developed.
The 3D W1 camera, with a 3x optical zoom lens, can also be used to shoot standard 2D images. An intriguing extension of the dual-lens system is the ability to caputre two images simultaneously with a single press of the shutter, each with its own settings for zoom, color and/or ISO.
The 3D W1 camera and 3D V1 viewer are scheduled for September availability, with pricing to be announced.