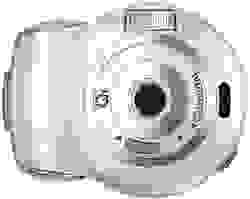 February 3, 2005 – Fujifilm Japan announced the Q1 Digital 4.0 Ir on Tuesday and plans to have it available by Feb. 9. The new 4-megapixel digital camera can use its infrared sensor to communicate with printers, mobile phones, and computers.
The Fujifilm Q1 has a spherical form to it and a 4x digital zoom lens that is encased behind a sliding plastic cap. On the back is a 1.5-inch LCD screen with 120,000 pixels. The camera has 16MB of internal memory, but can also accept xD-Picture cards. The fixed lens has a fixed aperture of f/3.5 and a shutter speed range of 1-1/2000. There is an automatic white balance setting, along with four preset modes. A video mode records in 320 x 240 or 160 x 120. The Q1 has 4.18 total megapixels on its 1/2.5-inch CCD, but uses only 4 of them to capture still images.
The Fujifilm Q1 Digital 4.0 Ir weighs 5.5 ounces, including the battery. The camera is quite compact at 3.7 x 2.9 x 1.4. The circular orientation of the camera and the infrared communication make the Q1 a viable competitor to the Kodak EasyShare One in Japan.