Cameras
Fujifilm Releases Firmware Update for S5 Pro
Fujifilm S5 Pro firmware update, Fujifilm Releases Firmware Update for S5 Pro
*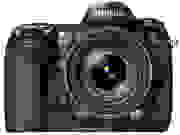 March 20, 2007 *– Fujifilm has announced a firmware update for its FinePix S5 Pro model, which was released last fall. Firmware v. 1.04 improves color accuracy when using its flash white balance preset, as well as its auto WB setting when using Nikon non-CPU lenses.
The FinePix S5 Pro is the new flagship DSLR in Fujifilm's S-series. It features a 6.1-megapixel Super CCD SR Pro imaging sensor and refined Real Photo processor. The camera carries over Fujifilm's extended dynamic range option from its FinePix S3 Pro. For more information, read our First Impressions Review.
Users can download the update at http://www.fujifilm.com/products/digital/download/s5pro/fupd.htm.