Cameras
Fujifilm Releases Z20fd
Jan. 24, 2008 – Fujifilm today announced the FinePix Z20fd, a 10-megapixel point-and-shoot aimed at the younger Generation Y. It features a number of updates from its predecessor model, last July's Z10fd, including a new MPEG-4 Movie mode and a Dual B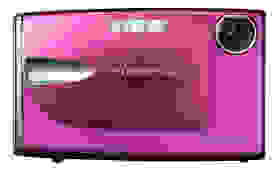 Jan. 24, 2008 – Fujifilm today announced the FinePix Z20*fd*, a 10-megapixel point-and-shoot aimed at the younger Generation Y. It features a number of updates from its predecessor model, last July's Z10*fd*, including a new MPEG-4 Movie mode and a Dual Blog mode to resize pictures and movies for easy uploading to the Internet. It comes in four flashy colors and will retail for $199.95 when it ships in late March.
The F20*fd has a 3x optical zoom lens and a 2.5-inch LCD screen, like the earlier Z10*fd, but boosts the megapixel count from 7.2 to 10 megapixels. It boasts a number of trendy features, including face detection with automatic red-eye removal, which focuses and exposes on up to 10 faces at once. Like the Z10*fd*, the Z20*fd* has IrSimple technology, allowing for the wireless transfer of images and movies to IrSimple-compatible devices such as computers, printers, or other cameras.
The Z10*fd* featured a Blog mode to enable easy photo uploading to the Internet, and the Z20*fd* offers a Dual Blog mode. Dual Blog mode automatically resizes images and movies to a smaller, Internet-friendly file size (640 x 480 or 320 x 240 pixels), making it easier for users to upload to popular online-sharing sites.
Digital image stabilization uses higher ISO sensitivities of up to ISO 1600 and faster shutter speeds to reduce blur caused by camera shake. i-Flash Intelligent Flash, carried over from the Z10*fd*, automatically varies the flash based on the light available. A Dual Shot mode takes two pictures with one push of the shutter button – one with flash, and one without – then allowing users to choose whichever image they prefer.
The Z20*fd* has 16 Scene modes, covering the basis like Beach, Snow, and Fireworks. For fun post-capture, the Z20*fd* has stamp designs available in Playback mode that can be added to captured images.
The Movie mode has been updated to MPEG-4 recording, and a second shutter release button is designed specifically for movie capture. It comes in Jet Black, Wasabi Green, Hot Pink, and Ice Blue, and runs on a rechargeable lithium-ion battery. It accepts xD, SD, and SDHC memory cards, and comes with 45 MB of internal memory.
"With new technology and features, like Dual-Blog Mode, the Z20*fd* provides Generation Z with a convenient all-in-one device to capture all their favorite moments in style," said David Troy, senior product manager, Consumer Digital Cameras, Electronic Imaging Division, FUJIFILM U.S.A., Inc.