Cameras
Fujifilm Unveils Z100fd
Fujifilm today added a new model to its slim Z-series: the FinePix Z100fd. The Z100fd features a diagonally-sliding cover to protect its internal lens, wireless transfer capability, and Dual Image Stabilization. The Z100fd will retail for $249.95 later th
Jan. 4, 2008 – Fujifilm today added a new model to its slim Z-series: the FinePix Z100*fd*. The Z100*fd* features a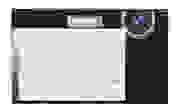 diagonally-sliding cover to protect its internal lens, wireless transfer capability, and Dual Image Stabilization. The Z100*fd *will retail for $249.95 when it is released later this month.
The 8-megapixel Z100*fd* ups the megapixel count of the last Z-series model, the 7.2-megapixel Z10*fd*. The Z100*fd* features an internal 5x optical zoom lens, up from the Z10*fd*'s 3x zoom, and a slightly larger, 2.7-inch, 230,000-pixel LCD. Fujifilm adds Dual Image Stabilization to the Z100*fd*, which combines boosted ISO settings of up to ISO 1600 with mechanical image stabilization to prevent blur in photos caused by shaky hands.
The Z100*fd* features face detection, which can detect up to 10 faces at a time. Face detection is used in conjunction with Auto Red-Eye Removal, automatically removing red eyes from faces the camera detects.
Like the Z10*fd*, the Z100*fd* has Fujifilm's Blog mode, which automatically crops images for online sharing. A Dual Shot mode takes two photos – one with flash, and one without – so users can compare both photos and choose which one to keep. There are 16 Scene modes, including Fireworks, Beach, Party, Underwater, and an Auction mode for uploading to auction websites.
Fujifilm keeps IrSimple wireless technology on the F100*fd*, like the F10*fd*. Images can be transferred wirelessly to compatible devices, without connecting to a computer.
The Z100*fd* shoots movies with sound at VGA (640 x 480) resolution at 30 frames per second (fps) , or 320 x 240 resolution at 30 fps. Zoom is disabled in Movie mode.
The Z100*fd *runs on a rechargeable lithium-ion battery and accepts xD Picture Card and SD/SDHC media. It's available in four two-toned color options: Shell Pink, Satin Silver, Cappuccino Brown, and Tuxedo Black.