Cameras
GE Enters Digital Camera Market
GE and General Imaging will start to make digital cameras and a photo printer.
*February 13, 2007 *– Consumers will soon find digital cameras with the GE name on the shelves. Along with partner General Imaging Co., GE announced an exclusive agreement to launch a series of 7 to 12-megapixel cameras and a photo printer for April release in North America.

The 130-year-old GE that typically produces home appliances, plastics, aircraft engines, and lasers will enter into the digital camera market for the first time in company history. GE and General Imaging will start their new product line with entry-level, 7-megapixel cameras with a 2.5-inch LCD screen. Both companies will also manufacture higher-end models at 12 megapixels with 3-inch LCD displays, along with a photo printer companion.
All their camera models will include image stabilization, high ISO sensitivity, and panoramic stitching, according a company press release today. GE maintains that the new cameras will combine design with advanced features.
"Style will play an important part in our product development," said lead designer Takeyoshi Kawano.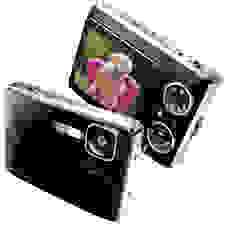 Some famed figures in this new partnership include General Imaging CEO Hiroshi Komiya, former president of Olympus. The chief designer of the new cameras will be Takeyoshi Kawano. Kawano designed the Olympus Stylus camera series, the Sony Walkman, and the Sony VAIO computer. Former ArcSoft, Samsung, and Ricoh executive Rene Buhay will lead the sales campaign in North America for the new GE-General Imaging products.
Even with a heavily saturated digital camera market, GE is aiming high to top other manufacturers.
"Our aim is to be Number 1 in all aspects – quality, technology, performance and value – and these cameras will do that," said Kawano.
The GE digital cameras will debut at PMA 2007. They will be released in North America in the spring and in Europe and Asia later this year.
Image is a sample illustration of the new GE "G" series digital camera.