Cameras
Good Gear Guide Review Canon 450D
Good Gear Guide recently reviewed the 12MP Canon EOS 450D DSLR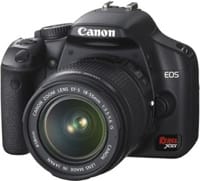 Good Gear Guide recently reviewed the 12MP Canon EOS 450D DSLR and according to them the 450D is a solid improvement on the EOS 400D. The camera now comes with a multitude of features that further enhance the photographic experience and strengthen the Canon name.
Features like Live View, dust reduction, 14-bit A-D, fast burst mode and the 12.1 MP CMOS sensor makes the 450D  a solid buy.  However the Live View autofocus at times is slow and  the pictures could use a little sharpening.
Up next
Get Reviewed email alerts.
Sign up for our newsletter to get real advice from real experts.