October 12, 2006 – Last week, Holocore updated their "integrated annotation editor" software PictureSync version 1.6. The Mac-enabled program performs batch uploading from photo management software onto photo-sharing websites, such as Flickr and Shutterfly. PictureSync version 1.6 adds support for the lastest version of Aperture 1.5.
Launched in October 2004, PictureSync is geared for simplifying photo and video uploading from management programs to image-hosting sites, according to the Holocore website.
The latest version adds full integration with Intel-based Mac applications. Among other improvements,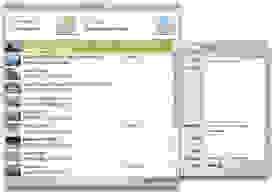 PictureSync 1.6 fixes a bug when closing the fullscreen view and a bug with missing metadata information when uploading. Other new features include an improved Pictures List with new sorting options and a Ratings function.
Holocore states the company plans to add a Windows version of PictureSync later this year, according to the site. Holocore also plans to integrate PictureSync to additional services such as Facebook, Snapfish, and Yahoo! Photos.
PictureSync v1.6 is available for free at http://holocore.com/?PictureSync, although users can also buy a licensed version for $14.