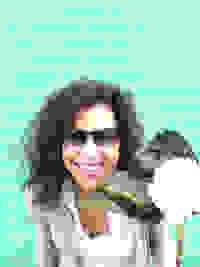 March 14, 2005 — Kate Moss, Minnie Driver, and the Libertines are just a few of the celebrity photographers who captured their everyday moments on camera phones as part of HP's Mobile Moments photography exhibition. Announced today, HP will print the more than 200 photographs and auction them on eBay later on this year. Proceeds of the celebrity photo auction will benefit the HP Digital Villages Program and Maggie's Cancer Care Centres.
Camera phone users are also invited to upload their "mobile moments" to the HP UK web site, where HP judges will select two first prize images. The winners will receive either a HP Photosmart 375 printer or a Sony Ericsson camera phone. Visitors to the site can vote on the best photos, which has no bearing on the prizes but is interesting nonetheless.
Camera phone photographers have until May 15 to submit their entries, of which they can enter as many as they want. Entrants must be 18 or older and be from the United Kingdom, France, Germany, Spain, Hungary, Belgium, or The Netherlands. According to the HP site, "The judges will select the winners based on the most imaginative and thoughtful use of camera phone photography."
In the celebrity album, contributors include fashion photographer Nick Knight and musicians such as The Roots and the White Stripes. Visitors can also rate the celebrity photographs and download images of Kate Moss' friends, Minnie Driver dancing, and a great profile of Libertines front man Carl Barat.