Las Vegas, Nevada, March 8, 2007 – Today, HP introduced the Photosmart R837, which includes its new in-camera Photo Touch Up and Pet-Eye Fix features. The 7.2-megapixel camera comes with a host of in-camera editing capabilities, along with an increased LCD screen size. The HP R837 has a retail price of $229.99 and is slated for an April release in North America, Latin America, and select European countries.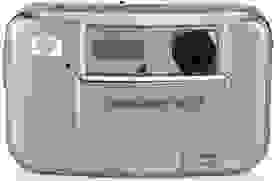 The new R837 has the same 7.2-megapixel count and 3x optical zoom as its predecessor, the R827 that was introduced in May 2006. The new Photosmart, nevertheless, has an updated 3-inch LCD screen with 170 degree wide viewing, over the 2.5-inch monitor on last year's camera.
Designed for point-and-shooters, the new HP Photosmart R837 allows users to prepare and edit images within their camera without the use of a computer, according to a company press release today. Like previous models, the HP R837 comes with a Design Gallery and a built-in editing system that includes border options and the highly publicized Slimming effect, which elongates images to make people appear thinner in photos.
One highlight of the new R837 is the Touch Up function. Users can retouch faces by manually selecting a section of the portrait photo with a yellow highlighted box, eliminating blemishes with the in-camera tool.
Users can also make their pets look better with the new Pet-eye Fix. As with the red-eye removal function for humans, users can manually correct glowing eyes with the same box selection tool. Other editing tools include in-camera panorama stitching of up to five photos and a built-in photo tagging organization system.
The HP R837 possesses a Photosmart Express function that allows users to preselect images for printing. The camera also possesses Adaptive Lighting Technology that adjusts for high-contrast situations and Steady Photo technology, which boosts its sensitivity to its maximum 400 ISO.
The HP R837 also has video capabilities of 640 x 480 quality at 24 frames per second.
Users can also opt to purchase an additional HP Photosmart 6221 Premium Camera Dock for recharging, uploading, or connecting to a TV for viewing.
Key Features:
Pet-eye Fix
Photo Touch-up
Design Gallery
HP Photosmart Express
Adaptive Lighting Technology