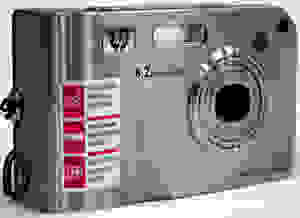 February 19, 2005**— HP announced a slew of digital cameras today, introducing the R717, which is a direct upgrade from the HP Photosmart R707. Besides adding another megapixel, the new 717 has a slightly larger LCD screen. The two digital cameras both have the same HP Precision 3x optical zoom lens with 8x digital zoom in very similar compact 3.8 x 2.4 x 1.4-inch bodies.
The 6.2-megapixel HP Photosmart R717 employs HP Real Life Technologies, which allow photographers to remove red-eye, preview full panoramas, and bring out details in shadows — all within the digital camera. The camera can manually control the following functions: Metering, Contrast, Saturation, Sharpness, ISO, White Balance, Image Quality, and Exposure Compensation. While it does not have the desirable control over aperture and shutter speed, the HP opts for the more automatic route with several scene modes.
There is also a QVGA movie mode on the HP R717. It can shoot 30 frames per second up to the capacity of the SD or MMC card or the 32 MB of internal memory. The burst mode shoots 3 frames per second for a maximum of three frames, so while this is a decent speed for a compact camera, the action had better not last longer than a second.
The stainless steel frame has a 1.8-inch LCD screen, slightly larger than its predecessor's 1.5-inch viewer. The screen on the HP R717 also has a high resolution of 130,000 pixels. If users are low on battery power or if their preference is the viewfinder, this model has an optical viewfinder.
HP also released a blue version of the HP Photosmart R607. The camera has the same 4.1 megapixels and 3x optical zoom, but comes in a royal blue color rather than the traditional silver finish.