July 26, 2006 – On Monday, graphics software company Idruna Software Inc. released an updated version to the portable FTP transmitter, Pocket Phojo version 4.0.
The Pocket Phojo is the "smallest and most effective solution for editing, captioning, and transmitting," according to Monday's press release. With clients that include AFP, the Associated Press, Reuters, The New York Times, and the U.S. Marine Corps, the Pocket Phojo is geared for photojournalists and military officers as a replacement for heavy laptops.
Users can connect their Canon or Nikon cameras with an USB cord to the Pocket Phojo. When they push the Protect button, the Pocket Phojo transfers images and captions using WiFi, Bluetooth, or BGAN, even while the photographer is still shooting, according to the release.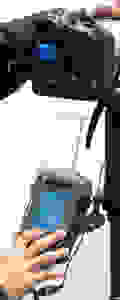 The updated Pocket Phojo version 4.0 features an image browser tool to display RAW files, includes GPS support, and has automatic image rotation.
The update is free for existing users and is available for download at http://www.idruna.com/downloads.html, along with a free 30-day trail version.
The new software is available at the retail price of $489 for new users. Idruna has a $100 promotional discount for freelancers until August 23, 2006.