Cameras
InfoTrends: 'Digital Ecosystem' Closer Than Ever
Digital camera consumers are getting closer and closer to experiencing a "digital ecosystem" with the ability to share images anytime, anywhere, with anyone, said Ed Lee, Director of the U.S. Consumer Imaging Services at InfoTrends, at this morning'
*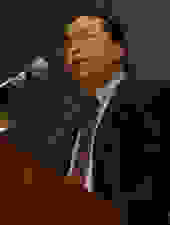 Feb. 1, 2008 - *Digital camera consumers are getting closer and closer to experiencing a "digital ecosystem" with the ability to share images anytime, anywhere, with anyone, said Ed Lee, Director of the U.S. Consumer Imaging Services at InfoTrends, at this morning's InfoBriefing here at PMA. This focus on connecting people results in "giving users control over their content," Lee said.
New features in online sharing, HD-output, and Wi-Fi connectivity are helping to expand the "second decade" of computing, allowing Lee to envision a time when a user could log onto any device anywhere and be able to access their personal information.
"It won't matter what device, because it will know who you are," Lee said.
Envisions of the future were coupled with today's trends at this morning's briefing. InfoTrends predicts a more conservative growth in digital imaging this year, of about 8 percent, compared to last year's 20 percent increase. Factors leading to diminished growth include the current state of the economy and the saturation of the market, Lee said. Currently 77 percent of American households have at least one digital camera, he said, and many who bought cameras last year won't be looking to purchase a new model until 2009 or 2010.
Prices of digital cameras are still falling, which has led to an increase in sales.
"Anyone can afford a digital camera now," Lee said. However, since prices have fallen faster than sales have risen, overall revenue is still down, he said.
A few trends in digital cameras are standing out for 2008. Cameras are getting smarter, with options for smile detection, blink detection, smart capture, and intelligent auto scene modes making it easier for users to take good pictures.
Marketing toward specific buyers will also continue, Lee said, as manufacturers seek to appeal to certain buyers, such as teenagers, women, first-time buyers, or second-time buyers. "Marketing is going to be much more important," in the coming years, Lee said.
On the sharing side of imaging, InfoTrends Director of Internet Imaging Trends Alan Bullock said advances must be made in online sharing sites in order to continue pulling in users. Forty percent of digital camera users and nearly 20 percent of camera phone users will upload photos to an online photo service this year.
Tagging photos must be standardized, so users only have to tag photos once for the tags to show up everywhere their photos are stored.
"It's still a time-consuming process," he said.
More flexible privacy controls are also needed, he said. Currently, users cannot allow and revoke access to online sharing sites at will. "That flexibility does not exist right now," Bullock said.
In all, however, the U.S. consumer digital camera market continues to dominate the market and grow. By 2010, InfoTrends predicts that by 2010 the U.S. market will account for 81 percent of digital camera sales and about 21 million units.