Cameras
International CES Kicks Off In Las Vegas
It's that time of year again - the International Consumer Electronics Show has kicked off in Las Vegas. CES is the largest trade show in the world, attracting 2,700 exhibitors and more than 140,000 atendees. Digital camera manufacturers are here to releas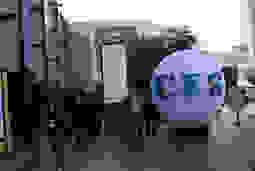 Jan. 7, 2008 – It's that time of year again – the International Consumer Electronics Show has kicked off in Las Vegas. CES is the largest trade show in the world, attracting 2,700 exhibitors and more than 140,000 attendees. Digital camera manufacturers are here to release their newest offerings from Jan. 7-10. Check in often, as DigitalCameraInfo.com will be constantly updating with digital camera news.
So what's the big scoop on digital cameras? The Casio Exilim EX-F1 is getting a lot of buzz with its reported 60 frames-per-second Burst mode and Movie mode that captures video faster than the human eye can perceive it. Check out the news here, and take a photo tour here. We'll be posting our F1 First Impressions Review tonight, so stay tuned for a closer look.
Casio also released the Exilim Card Ex-S10, touted as "the world's smallest and thinnest" 10.1-megapixel point and shoot. Click here for the news and here for a photo tour.
High definition (HD) capability is also a common theme this year, with Kodak releasing three point-and-shoots with HD video and still image capture. Check out the news and photos.
Samsung's new flagship model for its NV-series, the NV24 HD, also offers HD video and still capture, along with wide-angle shooting and a super slim design. Check out the news and photos.
In addition, Sony has announced the Alpha A200, the replacement for its freshman digital SLR, the Alpha A100. Sony claims the A200 is faster and easier-to-use than ever, aimed for first-time DSLR owners. Read more or check out the photos.
CES draws some of the biggest names in the industry – Bill Gates gave a keynote address last night, and many celebrities and musicians are making appearances throughout the week, representing various products.
In addition, CES is 'going green.' The Consumer Electronics Association (CEA) paired up with Carbonfund.org to estimate how much carbon is emitted at the tradeshow. CEA and Carbonfund.org will offset the approximately 20,000 tons of carbon estimated to be produced by CES by a combination of energy efficent projects, renewable energy, and reforestation.
CES, which covers 1.7 net square feet of space (more than 35 football fields), draws exhibitors and attendees from more than 130 countries around the world. According to CES, the U.S. household has an average of 25 electronics in it, and U.S. consumer electronic sales are expected to eclipse $160 billion for the year 2007.
Make sure to check back to DigitalCameraInfo.com for news updates and our First Impressions Reviews of the newest digital cameras to hit the market.