Cameras
iView MediaPro Updated as Microsoft Expression Media
iView MediaPro Updated as Microsoft Expression Media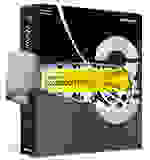 *December 6, 2006* – Following the Microsoft acquisition of iView Multimedia, Ltd., the photo management software iView MediaPro will be upgraded to Microsoft Expression Media. It will be available in spring 2007 for $299. 
The Windows and Mac-supported Microsoft Expression Media will be aimed at cataloguing and organizing large volumes of photos much like iView MediaPro and with special attention to photographers, graphic designers, interactive media designers, and web content providers, according to iView website.
Microsoft Expression Media will support 100 formats and will have drop-and-drag applications. The cross-platform software will also include a Windows-only Expression Media Encoder for video and audio editing.
Existing users of iView MediaPro 3 will be able to download Microsoft Expression Media for free when it becomes available. The new Microsoft software will be compatible with iView v3.0 or higher, according to the website.
Microsoft plans to release further details and a trial version of Microsoft Expression Media later, according to the company website.  Microsoft Expression Media will also be packaged with the entire Expression Studio suite that includes Expression Web and Expression Blend for $599.