February 19, 2005 – Kodak added two more digital cameras to its Z series: the EasyShare Z7590 and the EasyShare Z730. All four of the Z series cameras stay within the 4-5 megapixel range and have varying levels of optical zoom up to 10x. Both of these cameras are ImageLink and PictBridge compatible and work with the Kodak Printer Dock Series 3.
The Kodak EasyShare Z7590 is the higher end model, with 5 megapixels and a 10x optical zoom lens. With its black body and SLR-like shape, this camera looks strikingly similar to its sister series camera, the DX7590. Both cameras have a 38-380mm Schneider-Kreuznach Variogon lens protruding from the front. The new Z7590 has a ½.5-inch CCD and a Kodak Color Science Chip that allow features like the 2-frame-per-second burst mode to perform.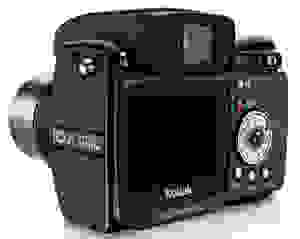 A 2.2-inch LCD screen with 153,000 pixels displays live histograms, as well as menus and images. The EasyShare Z7590 also has an electronic viewfinder to preserve power when necessary. Both the viewfinder and the LCD screen capture 100 percent of the view from the lens, so users can take accurate pictures with either viewing option. The Kodak Z7590 packs additional features like 32 MB of internal memory and a flash sync connection. This EasyShare will be available in May 2005 for a retail price of $449.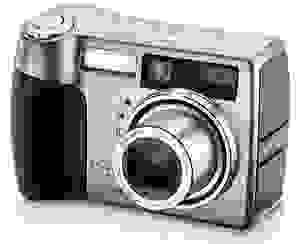 The Kodak EasyShare Z730 has many of the same features as the Z7590, but comes with less optical zoom and a different retail price. The EasyShare Z7590 has 5 effective megapixels and a 4x optical zoom lens with a 35mm equivalent of 33-132mm. This digital camera looks like a compact model that partially molded itself into an SLR shape.
At measurements of 4 x 2.7 x 1.6 inches, the Kodak Z730 has a nice right-hand grip without the bulkiness of the Z7590. The Z730 has the same 2.2-inch LCD screen as the Z7590, but has a real image optical viewfinder rather than an electronic one. Both cameras have the same manual, priority, and automatic modes, providing a nice range of options for users of all abilities. The Kodak EasyShare Z730 will be available in May 2005 for $349.95.