*Las Vegas, Nevada, March 7, 2007 *– In a prelaunch for PMA that officially commences tomorrow, Kodak announced early this morning new C-series point-and-shoots, the EasyShare C763 and C613.  These entry-level C-series cameras come with digital image stabilization and video print options.  The 7.1-megapixel C763 will retail for $179.95, and the 6.2-megapixel C613 will be priced at $119.95 when the cameras become available in April.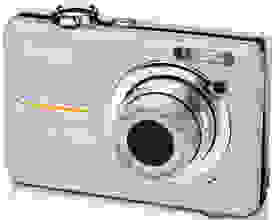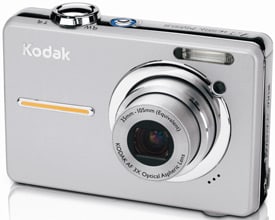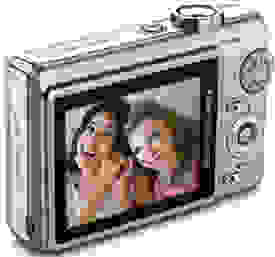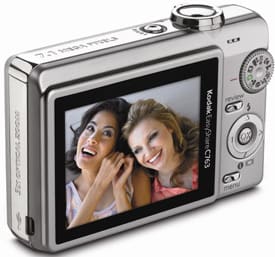 The EasyShare C763 and C613 share many of the same features.  Where the two C-series cameras differ is in CCD resolution and LCD screen size. The 7.1-megapixel C763 has a higher megapixel count over its sister camera, the 6.2-megapixel C613.  Both point-and-shoots are fitted with a Kodak AF 3x optical zoom lenses with digital image stabilization.  The C763 comes equipped with a 2.5-inch LCD display for indoor and outdoor use, according to the manufacturer website.  The C613 comes with a slightly smaller 2.4-inch LCD monitor with the same indoor/outdoor viewing capabilities.
With the C763 and C613, users can capture MPEG-4 video at 640 x 480 resolution at 30fps.  Users can also print from movie capture as single frames in 4, 9, or 16-index thumbnails.
The C763 has 10 scene modes, while the less expensive C613 carries 17 scene modes.  Both EasyShare cameras have built-in color modes for black-and-white, sepia, and natural color.
The C763 camera has a sensitivity range of 80-800 ISO, while the C613 has a higher sensitivity range of 80-1250 ISO.  Both new C-series cameras are compatible with SD and MMC media and accept AA batteries.
Kodak EasyShare C763 Key Features:
7.1 megapixels
2.5-inch LCD
3x optical zoom
Video single frame printing
10 scene modes**
****Kodak EasyShare C613 Key Features:**
6.2 megapixels
2.4-inch LCD
3x optical zoom
Video single frame printing
17 scene modes