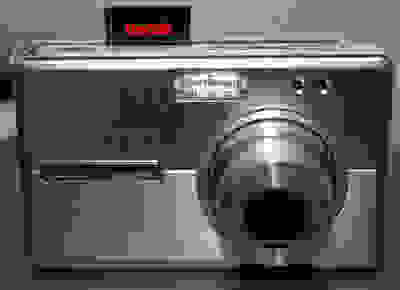 March 14, 2005 – Kodak's Chairman and CEO, Daniel Carp, will deliver the opening keynote address at the Cellular Telecommunications and Internet Association trade show, which opens today in New Orleans. Carp will discuss Kodak's mission of taking and sharing photographs "anytime, anywhere" while focusing on the new EasyShare-One digital camera that combines wireless and imaging capabilities.
The Kodak EasyShare-One is the first consumer digital camera to include Wi-Fi technology. The 4-megapixel camera has 256 MB of internal memory, a 3x optical zoom lens, and a 3-inch LCD touch screen that folds out of the camera body. The EasyShare-One will be available for $599 in June.
"This convergence of digital imaging and wireless technologies provides a tremendous opportunity for all involved," Carp said. "Making photographer ubiquitous requires the work of all industry participants, and Kodak is calling on the industry's leaders to band together for the benefit of the consumer and the market as a whole."
Carp will also talk about printing from camera phones, which many industry leaders see as a major obstacle to overcome. According to a Mintel survey, 60 percent of camera phone users rarely or never upload pictures to a computer, while 70 percent rarely or never share photographs between phones.
"This is an overall industry challenge, and Kodak believes that the solution to dramatically changing those percentages is to make the total imaging experience easy to use, not simply the handset experience, but the total photographic approach," Carp said. If manufacturers can figure out a way to make printing easier or more desirable, they could cash in on profits from the estimated 25 to 68 billion camera phone images taken every year.