*

Las Vegas, Nevada, March 7, 2007 *– Kodak announced today new software geared towards turning consumer photos into photo merchandise at retailers. Powered by RocketLife and developed by Visan, the new Kodak EasyShare Custom Creations Software allows users to create personalized consumer style and professional portfolio photo books. Users can download the free software on the Kodak website when it becomes available in May.
*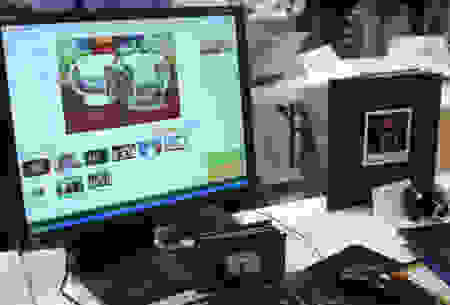 *
"This is a win-win for everyone," said Kodak Consumer Digital Group Marketing Director John Culverhouse  in a press release today. "Our retail partners have the flexibility of using on site equipment or leveraging our Qualex operations in the U.S. to produce a variety of custom photo merchandise. And customers benefit by having a fun, fast and easy way to tell more of their personal stories with digital photo keepsakes," he said.
Unlike their free online services that allow users to create merchandise from their photos, the new Kodak Custom Creations Software allows customers to personalize their images on their desktops with the external program for download. The photo book tools promise a one-touch drag-and-drop method with options to change font text, size, and style, according to the release.
Once users create their photo book templates, the Kodak orders can be made on-site at a retailer or through Qualex, a subsidiary company of Kodak,  to fulfill the orders. Kodak customers can download the Custom Creations Software at www.kodak.com later in the spring.
'It offers a lot of customization for customers from the comfort of their own home,' said Kodak representative Cheryl Johnston of their Retail Printing Business division in an interview with DigitalCameraInfo.com.