Cameras
Kodak Introduces Z1012 IS with HD Capture and Viewing
Feb. 4, 2008 - Kodak announced the EasyShare Z1012 IS, a 10-megapixel compact camera, at PMA in Las Vegas. The 12x optical zoom compact has the look and feel of a small SLR, although its Intelligent Auto settings should appeal to point-and-shooters lookin
*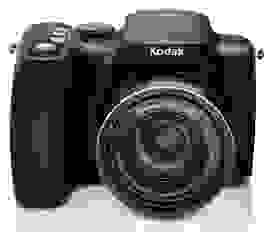 Feb. 4, 2008 - *Kodak announced the EasyShare Z1012 IS, a 10-megapixel compact camera, at PMA in Las Vegas. The 12x optical zoom compact has the look and feel of a small SLR, although its Intelligent Auto settings should appeal to point-and-shooters looking to upgrade from their pocket cameras. The Z1012 IS features optical image stabilization, face detection, and program and manual modes. It will retail for $299.95 when it ships in April.
Kodak claims the Z1012 IS has the fastest autofocus time of any comparable compact long zoom, taking only 0.14-seconds to capture an image once the shutter button has been pressed. Like many of Kodak's newest cameras, it captures HD images in 16:9 format and HD-quality video in MPEG-4 format, and both can be viewed on HDTVs using Kodak's HD Dock, sold separately.
The Z812 IS, released last August, had the same introductory price and 12x optical zoom. The Z1012 IS carries most of the specs of the Z812 IS, except for the increase in resolution (the  Z812 IS carried an 8-megapixel sensor).
The Z1012 IS has an ISO range of ISO 64 to 1600, although it has a high sensitivity setting of ISO 3200 at 3.1-megapixels. Kodak claims that the Intelligent scene detection automatically selects a proper Scene mode based on the shooting environment, and automatic image processing reduces noise and adjusts shadows and highlights in-camera.
The compact has Multi-Pattern, Center-Weighted, and Center-Spot exposure metering, and white balance options of Auto, Daylight, Tungsten, Fluorescent, and Open Shade.
The camera features 13 Scene modes, and up to three shots can be stitched together in the Panorama mode. Program, aperture priority, shutter priority, and manual modes also allow more user control. The Z1012 IS also has slide show features and text and sound tagging to help sort images.
The Z1012 IS has 32 MB of internal memory and accepts SD and SDHC memory cards.