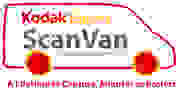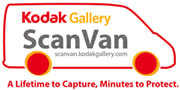 February 28, 2007 – Kodak will launch a scanning service on wheels tomorrow. Called the ScanVan, the Kodak service allows customers in the cities of Southern California and South Florida to submit up to 200 photos to be scanned within minutes for a flat rate of $24.99.
"Instead of having to spend hours to scan photos at home, customers will have the opportunity to digitize up to 200 photos in minutes at a special promotional price," stated the ScanVan website.
Interested customers must register online through the Kodak ScanVan site at http://scanvan.kodakgallery.com/socal/index for a scheduled appointment. After scanning and uploading to the Kodak online Gallery, Kodak returns the photos to users on the spot, according to the site. The ScanVan, equipped with Kodak scanners, will accept photo size from 2 x 2.5 inches to 8 x 10 inches. Additional scans after 200 pictures will be priced at 10 cents per image.
Users will also receive a coupon for a free mini photo book through the Kodak EasyShare Gallery.
The Kodak ScanVan will offer services in the following cities, starting March 1:
Laguna Hills Mall (Laguna Hills, CA)
Dana Point Festival of Whales (Dana Point, CA)
Tall Mouse Arts & Crafts Stores (all locations in Orange County, CA)
Galleria at Tyler (Riverside, CA)
LA County Irish Fair and Festival (Pomona, CA)
Brea Mall (Brea, CA)
The Block at Orange (Orange, CA)
Bride World Expo (Los Angeles, CA)
Camarillo Premium Outlets (Camarillo, CA)
Rubber Stamp and Scrapbook Expo (Pomona, CA)
Westminster Mall (Westminster, CA)
Del Amo Fashion Center (Del Amo, CA)
Cherry Blossom Festival (Los Angeles, CA)
Carlsbad Premium Outlets (Carlsbad, CA)
The Irvine Spectrum Center (Irvine, CA)
Delray Affair (Delray Beach, FL)
Treasure Coast Square (Jensen Beach, FL)
Central Florida Fair (Orlando, FL)
Boynton Beach Mall (Boynton Beach, FL)
Seaside Craft Fair (Hollywood, FL)
Pembroke Lakes Mall (Pembroke Pines, FL)
West Palm Beach Antiques & Collectibles Show (West Palm Beach, FL)
Broward Mall (Plantation, FL)
Palm Beach County YMCA (Boca Raton, FL)
The Galleria (Miami, FL)
The Shops at Sunset Place (Miami, FL)
Ft. Lauderdale Home and Remodeling Show (Ft. Lauderdale, FL)