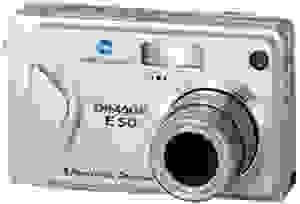 January 18, 2005 – Konica Minolta Europe announced an entry-level DiMAGE camera yesterday, the Konica Minolta DiMAGE E50. With 5 megapixels in a compact design, this camera launches a new E-series. The digital camera will sell in Europe for £100 and is available immediately.
The DiMAGE E50 features a 3x optical zoom lens with an additional 4x digital zoom. The 32-96mm lens has a standard aperture range from f/2.8-f/4.8. In macro mode, the lens can focus as close as 6cm. The camera does not have a viewfinder, but uses its 2.5-inch LCD screen for viewing also. The LCD takes up a large portion of the camera's back; its total measurements are 3.5 x 2.1 x 1.1 inches.
The 4.6-ounce camera packs four still image size settings and two movie size settings into its portfolio. The movie clips can be recorded at VGA or QVGA sizes, both at a rate of 15 frames per second. The length of the clip is only limited to the size of SD card.