Cameras
Leaf America Latest Offer Entails A Free Mamiya 645 AFDII
The latest offer by Leaf America is targeted at the medium format digital photographers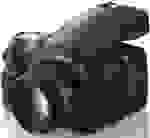 The latest offer by Leaf America is targeted at the medium format digital photographers. Buyers of a new Leaf Aptus 75, 65, or 22 back, or the Aptus S equivalent in Mamiya AFD mount, will receive a Mamiya 645 AFDII camera free of charge, with an automatic upgrade to a new AFDIII at no charge.
The new camera also offers 2nd curtain sync for flash photography, electronic buttons to control metering modes and exposure compensation, and accepts alkaline-magnesium or lithium batteries as well as nickel-hydrogen AA batteries.
'We want today's digital photographers to have world-renown Leaf technology at the most affordable price," said Mark Rezzonico, VP of Leaf America. "We think this special offer is the way to do that."
Visit www.LeafAmerica.com and www.Mamiya.com for more information.