Cameras
Leica Adds Ultra-Zoom V-Lux 1 to Digital Lineup
Leica Adds Ultra-Zoom V-Lux 1 to Digital Lineup
September 15, 2006 – Leica started a whole new series of cameras today with the introduction of the Leica V-Lux 1. This 10-megapixel digital camera will compete in the ultra-zoom market with its 12x lens and image stabilization system.
The camera's Leica DC Vario-Elmarit lens reaches 35-420 mm and has maximum apertures of f/2.8 in wide and f/3.7 in telephoto. It is constructed from 14 lenses in 10 groups on the inside and features zoom and focus rings on the outside. The V-Lux 1 also has an optical image stabilization system with two modes to activate it at all times or only while recording. The lens is one of the camera's best aspects, said Mauris Eschweiler, product manager for digital compact cameras at Leica Camera, in today's press release.
"The large range of focal lengths offered by the Leica V-Lux 1 means that complicated lens changing is eliminated," he said. "The camera is thus both flexible and quickly ready for use, the risk of dirt of the sensor is avoided and the scope of photographic equipment is concentrated into a compact and lightweight digital camera."
The Leica V-Lux 1 has a 5.55 x 3.35 x 5.6-inch body. While it isn't as large as a DSLR, it isn't entirely compact either. It weighs in at just over a pound and a half when loaded with its lithium-ion battery, SD memory card, and lens cap. The back of the camera is fitted with a 2-inch LCD monitor that tilts outward from the camera and allows photographers to get a bird's eye or worm's eye view without having to bend over backwards. The monitor has decent resolution too with 207,000 pixels.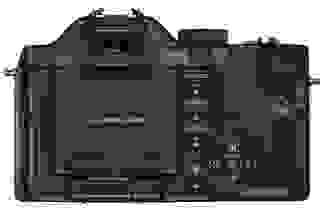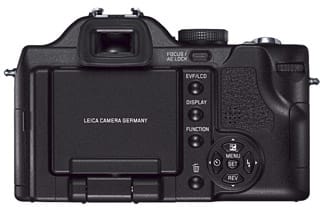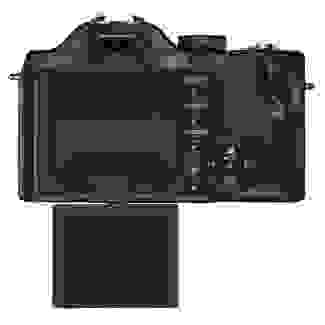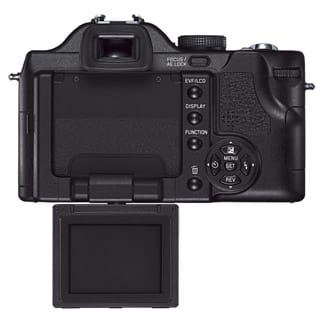 The tilting LCD screen and long 12x lens make it ideal for "every photographic situation," Eschweiler said. In the press release, Leica claims the V-Lux 1 is optimal for nature photographers because its super-telephoto mode is equivalent to 10x binoculars. The Leica V-Lux 1 has a full plate of manual to automatic controls and can shoot in RAW and JPEG in three different formats – 4:3, 3:2, and 16:9.
Other manual controls abound, such as the two custom white balance modes and Kelvin temperature adjustments and the 80-1600 manual ISO settings. The camera can record video at 848 x 480, 640 x 480, and 320 x 240 pixels, all at 30 or 10 fps. The Leica V-Lux 1 accepts SD or SDHC cards.