March 23, 2007 – Adding to its line of compact digital models, Leica recently announced the C-Lux 2. Branded with the Leica name, the 7.2-megapixel C-Lux 2 is advertised online at a retail price of $499.95. It will be available in May.
Long-time partner Panasonic had launched three FX-series cameras this month at PMA with similar features to the new Leica-branded C-Lux 2. Like the Panasonic DMC-FX 30 introduced in January, the Leica C-Lux 2 carries a 7.2-megapixel count and a Leica DC Vario Elmarit zoom lens with 3.6x optical zoom and a 28mm wide angle. The C-Lux 2 also sports Mega O.I.S., standing for Optical Image Stabilization.
Marketed as a compact camera, the Leica C-Lux 2 fits the size of point-and-shoot models, measuring 3.7 x 0.86 x 2 inches. The camera possesses a 2.5-inch, 207,000 pixel LCD monitor and has a sensitivity range of 100-1250 ISO and 3200 ISO at the high setting. The Leica C-Lux 2 is capable of standard JPEG shooting but has no RAW shooting capabilities like its big brother the Leica D-Lux 3. Users can oscillate between 4:3, 3:2, and wide 16:9 shooting with the multiple ratio functions.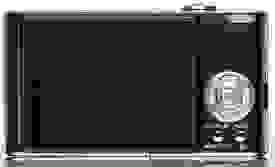 The Leica C-Lux 2 has 20 scene modes and includes built-in toning effecting for black and white or sepia photos. Users can also record movies in Motion JPEG video at 320 x 240 pixel resolution at 30fps.
The Leica C-Lux 2 accepts Li-ion batteries and SD, SDHC, and MMC memory media. The camera will be available in black and silver.
**Key Features of Leica C-Lux 2:

**7.2-megapixel
3.6x optical zoom with 28mm capabilities
Mega O.I.S. (Optical Image Stabilization)