Cameras
Lexar Introduces 300x UDMA CF Card
Lexar announced new UDMA CF card with a write speed of 300x.
*
February 20, 2007 *– Lexar Media, Inc. introduced a new line of CompactFlash memory cards today, unveiling its Professional Ultra Direct Memory Access (UDMA) media. Lexar launched the new CF card in 2, 4, and 8GB increments with a high speed rating of 300x, as well as two new card readers, according to a company press release today. Pricing has not yet been announced, but the new CF cards will be available in April.
The Lexar 300x UDMA CF card promises to write data at a minimum 45MB per second, with a 125 percent improvement in performance other the traditional 133x speed memory cards, according to the release. Called a "breakthrough" by Lexar, the Professional UDMA card is suited for UDMA-enabled digital camera backs and DSLRs.
"Our new Professional UDMA 300x speed-rated cards dramatically improve the photographer workflow by reducing the time needed to download images after a shoot," said Lexar director of Professional Product Marketing John Omvik in the release.
The 300x card comes with a limited lifetime warranty and includes Corel Paint Shop Pro X, Lexar Image Rescue 3, and Lexar Backup n Sync software.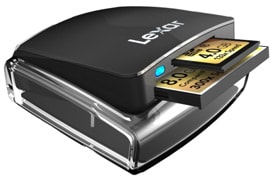 To supplement the new CF card, Lexar announced two new memory readers. The new FireWire 800 Reader is compatible with the new UDMA CF cards, traditional CF cards (Type I and II), and MicroDrives. The reader has a stackable design and will retail for $79.99 when it becomes available in April.
The new Professional Dual-Slot Reader also accepts the new UDMA CF cards, as well as previous generations of CF cards, SD, and SDHC memory.
The Lexar Dual-Slot reader, enabled with a USB 2.0 connection, is priced at $49.99 and slated for a June release.