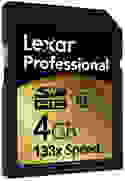 February 13, 2007 – Lexar Media Inc. introduced the 4GB Secure Digital High Capacity card with a write speed of 133x. The new SDHC card will be available in March. Pricing has not been announced.
The new SDHC cards can write data at 20MB per second for a reduced download time, according to the release. Like high capacity CompactFlash cards, the Lexar SDHC cards are designed for DSLR cameras that accept SDHC media.
"The RAW workflow capabilities of these new cards allow users to fully exploit the great flexibility and image quality that DSLR cameras offer,' said Lexar director of Professional Product Marketing John Omvik in a company press release today. 'Capturing large RAW files on smaller-sized cards was a limitation in the past, but our Professional 4GB SDHC card removes this limitation," he said.
The Lexar 4GB SDHC card includes a USB 2.0 card reader, free software downloads for Image Rescue 3 and Corel Paint Shop Pro X, and a limited lifetime warranty.