November 17, 2004 – Magpix announced an affordable portable digital photo album yesterday. The Magpix Pocket Photo Album is available immediately for $99.99. This device looks similar to a stripped down compact digital camera, weighing 2.2 ounces with one side entirely composed of a 1.5-inch LCD screen.
There is a reason the photo viewer is so cheap. Most units released also serve as a data storage unit. However, the Magpix Pocket Photo Album is made more for the viewing with its 16MB of internal memory. The device has a slot for an SD/MMC card, but is still hardly comparable to the larger data storage and viewing devices currently available.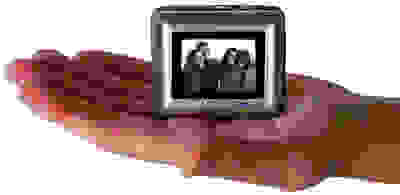 The Epson P-2000 Multimedia Storage Viewer comes with a 3.8-inch LCD screen, 40GB of capacity, and retails for $499.99. Its predecessor, the P-1000, has the same LCD screen, but has 10GB of storage and retails for a hundred bucks less. The Vosonic VP6300 has 20GB of storage, a 2-inch LCD, and sells for about $400. Most of these high capacity storage units can play music with the slideshows, a feature the Magpix Pocket Photo Album lacks.
So while the Magpix Pocket Photo Album doesn't have the fancy hardware that most data storage and viewing units have, it does provide an affordable entry-level unit that does have basic viewing functions: zoom, scroll, thumbnails, slideshows, etc. The palm-sized device comes in titanium silver or pink thistle.