*March 7, 2010 *- Panasonic today announced two new 12.1-megapixel Micro Four Thirds cameras.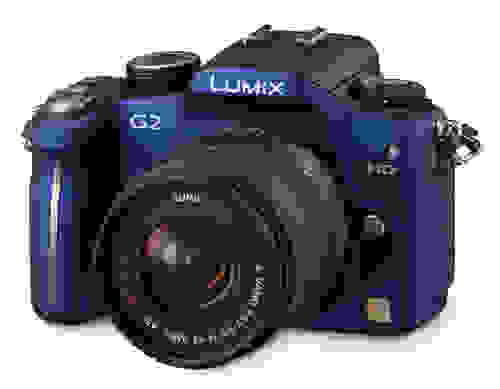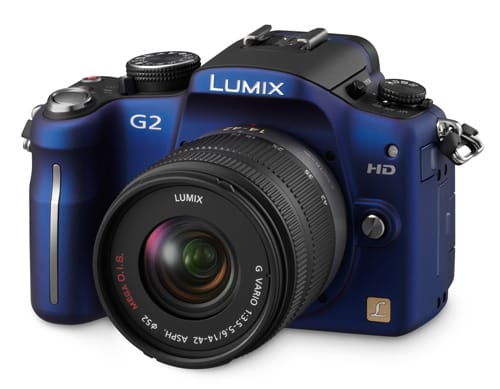 *The Panasonic Lumix G2 will be available in black, red and blue
at a time, date and price to be named later.*
The G2 replaces the first Micro Four Thirds camera, the G1 (released in November 2008), this time with 720p video recording plus an articulated 3-inch 460,000-dot touch-screen, which is used for camera control, picking focus points by pointing, and browsing photos by swiping your finger. There is also a high-resolution 1,440,000-dot electronic viewfinder, with an automatic sensor that detects when the camera is held to your eye.
The G2 supports both Motion JPEG and the more efficient AVCHD Lite video recording formats, with manual aperture control, a built-in mono mic and an external stereo mic input, along with HDMI high-def output. At 4.88 x 3.29 x 2.91 inches (124 x 83.6 x 74mm) and weighing  13.09 oz  (371g) for the body alone, it's nearly the same size and shape as the original G1, with much the same layout. One improvement is moving the control wheel, which was annoyingly placed on the grip where it was easy to press accidentally on the G1, to the back of the G2.
The G2 supports shutter-priority, aperture-priority and manual exposure modes in addition to auto and program shooting. The ISO range is 100-6400, with shutter speeds from 1/4000-60 seconds.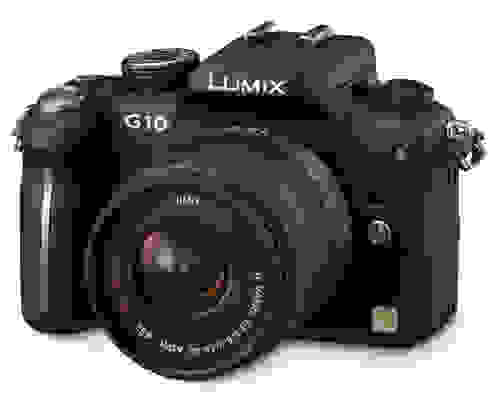 The G10 will only be sold in basic black.
Also introduced today is the less expensive G10, which shares a sensor and most still shooting specs with the G2. The LCD is also a 3-inch 460,000-dot screen, but without touch capability or a hinged mount. 720p movie recording is supported, but only in Motion JPEG format, and with mono sound recording. There is a built-in electronic viewfinder, but it is a lower-resolution version than the G2. The size is identical to the G2, the weight 1.2 oz (35g) lighter. 
The kit for both cameras includes a new 14-42mm f/3.5-5.6 optically stabilized lens (equivalent to a 28-84mm on a 35mm camera).
Panasonic no longer provides pricing and availability information when it makes product announcements. This information will be released separately 30 days before the product ships.