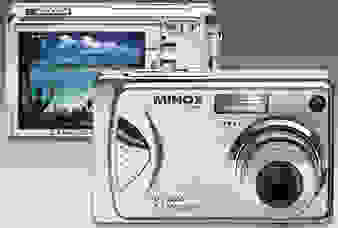 *January 17, 2005 *— From the same former spy-camera manufacturer that introduced the diamond-studded 24-karat gold camera comes the more simplistic, Minox DC 5222. The new model was announced last Wednesday to provide a more affordable choice for beginning point-and-shooters. The DC 5222 has the same automatic and manual functions as its gold counterpart, but comes with a bigger 2.5-inch LCD screen and more megapixels at 5.2. The pricing information has not yet been released, but it is expected to go well under the 1,200 Euro price tag on the Minox DC 4211 gold.
This European digital camera has a limited selection of manual options. The Minox DC 5222 has three exposure modes available: Auto, Portrait, and Landscape. While the first choice is fully automatic, the second and third allow for a few adjustments. The ISO can be set at 50, 100, or 200. There are seven white balance modes, including a manual setting, and four flash modes. The camera contains four still image size options and two movie image sizes to choose from. The digital camera will also record 30-second movie clips to its SD card.
The 5.2-megapixel Minox DC 5222 is compact at 3.5 x 0.9 x 2.1 inches and a light 4.5 ounces, but it isn't a Verve or Exilim. The camera's Minoctar auto focus lens extends from 5.4-16.2mm from the camera body; this is equivalent to a 32-96mm zoom lens in 35mm format. The 3x optical zoom lens has an aperture range from f/2.8-f/4.8. The 5222 also has 4x digital zoom for the telephoto moments. A macro function rounds out the performance of the Minoctar zoom lens. While the Minox DC 5222 is not studded with diamonds and gilded in layers of gold, it still provides enough megapixels and features to attract a functional, fashionable crowd.