February 15, 2006 – Minox has just released a new compact digital camera, the DC 5011. The DC 5011 has a 5 megapixel CCD sensor, a 3x zoom MINOCTAR lens, a 2.5-inch TFT LCD screen and video shooting capability.
The approximately 3.6 x 2.4 x 1-inch and 4.9 oz. "compact" Minox DC 5011 is silver-toned with a rounded rectangular body and centered flash. Its telescoping lens protrudes from the right of the camera's front. The 3x zoom MINOCTAR autofocus lens captures images at a 35mm equivalent focal range of 32-96mm, and is focused by the typical W-T (wide angle to telephoto) toggle buttons.
The ISO sensitivity, which is a bit limited, can be manually adjusted in three steps: 50, 100 and 200. The white balance is automatic, while flash options are selectable and include: fill-in, red-eye-reduction, night and off in addition to auto.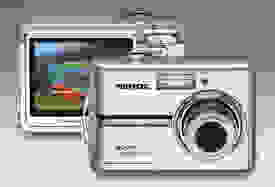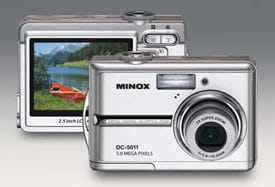 The Minox DC 5011 offers continuous shooting, along with a maximum shutter speed of 1/1000 sec.. The self-timer feature can be set in 2 second increments with a range of up to 10 seconds. The camera also has video shooting capability, though no resolution or timing information has been provided by the manufacturer.
Internal memory on the Minox DC 5011 is 16 MB and the camera accepts SD memory cards of up to 512 MB. It takes AA alkaline rechargeable batteries and includes a port for an AC option.
The Minox DC 5011 ships with a USB and video cable, wrist strap, Photo Explorer 8.0 and Photo Express 5.0 software for viewing and touching up photos, two AA alkaline batteries and the owner's manual.
Minox advertises the camera as an "an elegant body" at "an attractive price;" however, specific pricing and availability for the US market has not yet been disclosed.