*May 20, 2005 *- German camera maker Minox has created a jack-of-all-trades device called the DM1. What is it exactly? Well, the DM1 is a 3.2 megapixel camera, 2-inch LCD, MP3 player, digital video camera, and digital webcam, all complemented with 128 MB of internal memory and packed tight into a case measuring just 4.1 x 2.5 x 0.6 inches and weighing 3.3 oz.
The DM1's digital camera includes a 3.2 megapixel CMOS chip that can be interpolated to create 6 megapixel still images. Since the DM1 features a fixed focal length lens, the camera contains 4x digital zoom for an alternative view. The lens unit, with an aperture of f/3.5, rotates a full 360º and is protected within the camera body. Shutter performance for the DM1 ranges between 1/8-1/2000 sec in auto/manual or between 1/2-1/200 sec in digital video mode.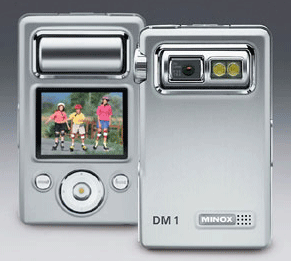 The digital video function on the DM1 seems to offer a unique collection of functions, including a 12x digital zoom (active during filming), and control over white balance. The camera can shoot at either 15 or 30 fps, storing images using MP4 format. The DM1 will record full 640 x 480 resolution video at 15 frames per second or reduced 320 x 240 resolution at a full 30 fps.
As yet another feature, Minox designed the DM1 to function as a webcam when attached to a computer via the included USB cable. In addition to using the packaged charger to replenish the power supply, this same USB set-up can be used to recharge the DM1 from a computer.
The DM1 also includes a digital voice recorder. To accommodate all this multi-functionality, Minox has built in 128 MB of internal memory, with expansion capabilities up to 1GB available via SD memory card.
The power supply for all the DM1's features is Nokia's newest cell phone battery, a potentially smart marketing move. Minox notes these new batteries are easy to find and can be swapped between products.
The DM1 is expected to sell for €329, or roughly $412 (USD).