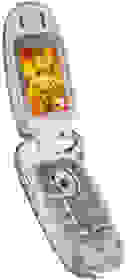 November 12, 2004 — As if you can't do enough from your cell phone, Fujifilm and Cingular have partnered to bring you more. Yesterday, the companies announced a new service for Cingular phone subscribers. The new service, Mobile Postcards, is designed to allow subscribers to send customized postcards from their wireless phones.
Cingular customers can take pictures with their camera phones, add a personalized message, address it, then send it to anyone in the United States through the postal service. The cost to send the postcard is $1.99, postage included, and the charge shows up on the monthly bill. To begin using the Mobile Postcard service, customers can download the program from Cingular's web site by logging on with their wireless phone.
"The launch of the Mobile Postcard application is a perfect example of how the trend toward convergence of the camera and mobile phone can both drive revenue and provide consumers with a new value-added service," said Gary Ban, CEO of Summus, a provider of mobile phone applications who designed the Mobile Postcard service. For more information, please visit www.cingular.com/postcard.